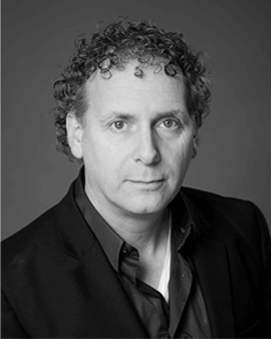 Robin de Levita is a multiple Tony Award-winning and nominated producer best known for creating the internationally acclaimed theatrical performance systems: SceneAround and StageAround. Both are ground breaking staging concepts that incorporate the relationship between the performance and the audience providing a unique and unprecedented theatrical experience.
Robin is co-founder, along with Kees Abrahams, of Imagine Nation, a global media content company focusing on Theater, Live Entertainment, Film and Television.
Robin de Levita produced three feature movies, line produced over a hundred TV shows, produced more than eighty theater productions in seven different countries across Europe and in the US including four hit shows on West End London, and seventeen on Broadway NY. In Europe he produced: The Lion King, Les Miserables, CATS, Miss Saigon, The Phantom of The Opera, Dance of The Vampire, Blue Man Group, Chicago, Sweeney Todd, West Side Story, Cabaret, AIDA and more.  For 5 years he was part of the board of Stage Entertainment overseeing all theatrical productions World Wide.
In 2010 de Levita produced Soldaat van Oranje together with New productions, the first production of its kind in StageAround. In October of this year the show celebrates its 7th year sold out run. This production broke every record in theater history and is by far the longest running theater production ever in the Netherlands.
In May 2014 he produced critically acclaimed ANNE – a new contemporary play, based on The Diary of Anne Frank. It's the first authorized stage adaptation since a Broadway production in 1950's and for the first time in history based on the original writings of Anne Frank.
The play was performing at Theater Amsterdam, specially built (by Imagine Nation) to host a single play. After ANNE, Robin produced SKY, a dramatic musical in 3D.
New York Times: "…Mr. de Levita built the new Theater Amsterdam in eight months." For the play ANNE he invented a new system that seamlessly integrates 3D visuals, film footages with moveable and rotating stages.
de Levita during his long and successful career has worked with many high profile celebrities including: Ralph Fiennes, Julie Andrews, Raquel Welch, Tina Turner, Liza Minelli, David Bowie and more. Currently Robin is directing the Dear World tour for acclaimed pianist/performer Iris Hond.
In March 2017 Tokyo Broadcasting System Television opened the first Asian StageAround theatre produced and delivered by Imagine Nation. Robin was Executive Producer on the opening show Seven Souls in the Skull Castle.
He is a recipient of the numerous prestigious international awards including Tony Awards for: Titanic (1997, Best Musical), 42nd Street (2001, Best Revival), Into the Woods (2002, Best Revival), Laurence Olivier Award in 1996 for The Who's Tommy, Outer Critics Circle Award for Victor/Victoria (1995), 42nd Street (2000) and Urinetown (2001) and more. In the Netherlands de Levita established the record of the longest running theatrical production in history named Soldaat van Oranje (Soldier of Orange).